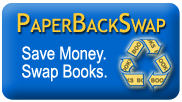 One of my all time favorite frugal websites is paperback swap. It's a free service where you list books you don't want anymore and request books you do. Each book is worth a credit. You get credits for mailing a book to someone and spend them when you request a book to someone else.
To sign up you register and post ten books you are willing to mail. You automatically are given book credits for signing up so you can request books right away.
A few tips:
use media mail from the US Postal Service to send heavier books. It will cost under $3 usually.
I use brown paper bags from the grocery store to wrap books in so I don't pay for packaging.
If you hate lines like I do you can use the automated postage service (APS) machines at the post office. The only caveat is that they don't do media mail so if the book is heavy it's worth waiting in line.
In the last two years I have saved $198 on Paperback Swap. It's easy to use, the books I have received have been in great condition, and it's always exciting to receive "fun" mail instead of bills.
What are you waiting for? Sign up! Swap Books for Free – PaperBackSwap.com